Powerful Photos From The 2018 Birth Photo Competition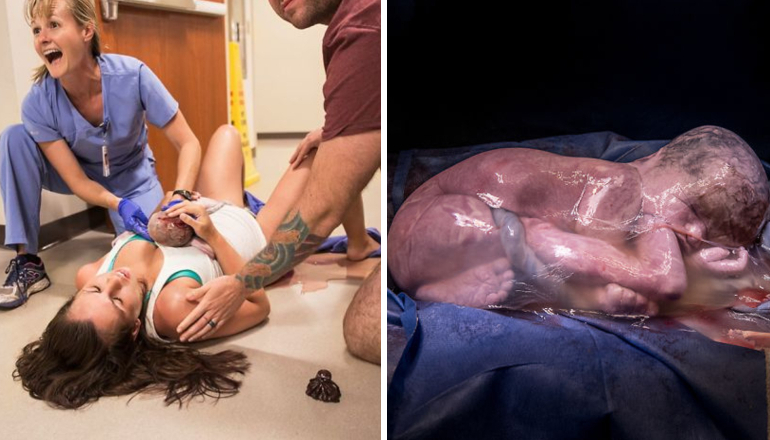 The International Association of Professional Birth Photographers (IAPBP) has announced the winners of their 2018 image contest, and the powerful photos that they have judged to be the winners show the raw beauty and drama of childbirth, as well as the sheer joy that follows.
Last year's contest was extremely high in quality and emotion, and this year the competition delivers once again. Each image tells a story of pain, perseverance, relief and joy. They document a new human's first moments of life, and a family's first moment of unity. You can see the full list of winners here.
As such, we must warn you that many of the photos below are intense and graphic, so reader discretion is advised. While one day birth photography will undoubtedly become more mainstream and accepted, we are not quite there yet. Scroll down below to see these powerful and unique images, and let us know what you think in the comments.
First Place Winner: Stunning Siblings First Encounter
 Marijke Thoen Birthphotography
Raw Emotion
 Lifetime of Clicks Photography
Honorable Mentions: Nurse Linda
 Little Leapling Photography
Hello
 Carlos Chow Ho Fotografia
Brand New Toes
 Breanna Lynch Photography
Newborn-Licious
 Belle Verdiglione Photography
Sealed With A Kiss
 CATHERINE BROWN PHOTOGRAPHY
Best In Category: Delivery, En Caul Baby Birth
 DANIELA JUSTUS FOTOGRAFIA
Love Does Not Divide, It Multiplies
 Artshaped photography and birth services
Best In Category: Labor, Nowhere And Everywhere
 Rebecca coursey, photographer + doula
Discovering The Love Chromosome
 Emilly Gama Fotografia
Woman Power
 Neo photography
You Can Do This. I Love You!
 Jody Deijnen Photography
So Much Love
 DANIELA JUSTUS FOTOGRAFIA
Honorable Mentions: How Big
 Meg Brock Photography
Best In Category: Birth Details, Birth Of A Brother
 DANIELA JUSTUS FOTOGRAFIA
A Surrogates Kiss
 Lillian Craze Birth Photography
Honorable Mentions: Fist Bump For Mom
 Ker-Fox Photography
A Sound Of Bliss, The First Cry
 Snap Life Photography LLC
Colorful Life
 Renate van Lith Fotografie
Rumpled
 Sevan Photography
Into The Light
 Kate kennedy birth photography
Honorable Mentions: A Physiological Third Stage
 Santa Cruz Birth Photography & Doula Services
1642 Days Of Wishing
 Angelfire Photography
Free
 Truckee Birth Photographer
The First Embrace
 Santa Cruz Birth Photography & Doula Services
Goddess Of Life
 Cat Fancote - Capturing Birth
Shhh, Brandnew Love, Shhh
 Geburtsreportage
Honorable Mentions: Labor By Candlelight
 Ashley Marston Photography
Honorable Mentions: Birthing Waves
 Birth Blessings Photography & Doula Services