Mom Has Priceless Reaction After She Gives Birth to a Baby Boy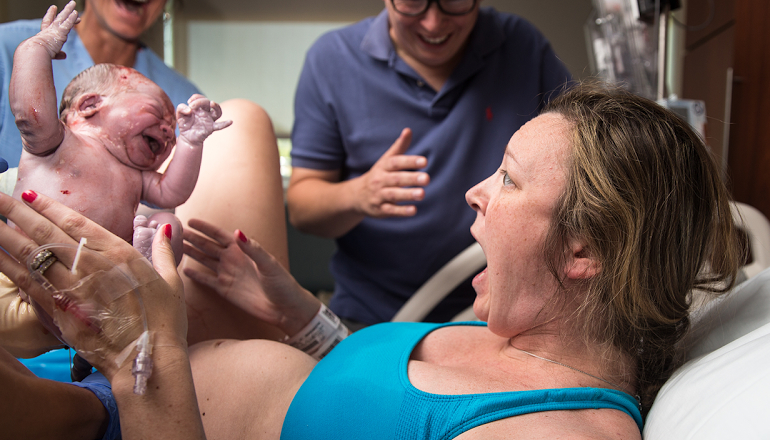 There are ultrasound machines that can show a 4D view of our baby's face at like, 12 weeks. So if you don't have to wait 40 weeks to find out whether you're having a boy or a girl, most people won't. Not to mention the elaborate gender reveals that the Internet could not survive without.
When it came to welcoming her second child into the world, Dara Crouch decided to go "old-fashioned." The 29-year-old from Columbus, Georgia, wanted to leave the gender of her second child a surprise.
Nobody on her mother's side of the family had given birth to a boy in more than 50 years, so Dara figured she had this pregnancy on lock—her family history indicated it could only be pink bows and ruffles.
The surprise, and Dara's reaction, was captured by family friend and photographer Neely Ker-Fox who says she's been behind the lens for more than 100 childbirths since 2011. "I've seen surprises, but Dara had by far the most genuine reaction".
"Five minutes before it was time to start pushing, the couple again started thinking about the possibility of a boy," said Ker-Fox, who noticed a "sweet, motherly apprehension" in Crouch. Moments later, at 1:31 p.m., the midwife announced it was a boy. Ker-Fox recalled Crouch gushing with excitement: "Oh my gosh! It's a boy; I can't believe it's a boy!"